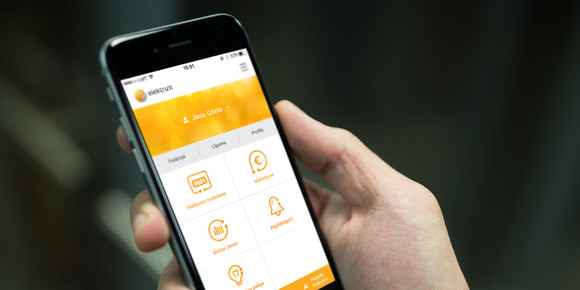 Latvenergo is one of our biggest clients, and the Elektrum app was a logical next step in our cooperation: alongside the development of the new customer service and payment system and self-service portal Elektrum.lv, we also developed the new Elektrum app for iOS and Android devices as an improved version of the previous Latvenergo app.
The key improvement of the app is its new visual design and option to log in with an Elektrum.lv portal profile to submit readings, make payments and perform other activities available only to authorised customers.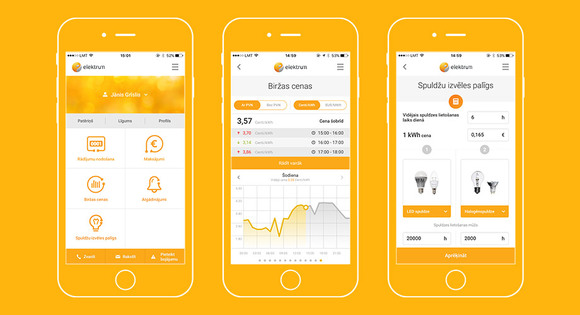 The app features:
SUBMIT READINGS – a convenient way to submit your electricity meter readings.
MAKE PAYMENTS – make electricity payments with a payment card or via internet banking.
PAYMENT OVERVIEW – view full payment history to follow your electricity payments.
CONSUMPTION OVERVIEW – follow your electricity consumption over a longer time and view as a graph.
CUSTOMER INFORMATION – conveniently view and update your information as needed.
EXCHANGE PRICES – relevant to those using the Elektrum Dinamiskais product and/or to follow changes in electricity prices on the stock exchange.
REMINDERS – receive a reminder about submitting readings and/or making payments at the beginning of each month.
LIGHT BULB GUIDE – don't get overwhelmed by the selection of light bulbs on store shelves, trying to understand which one to choose and how not to end up paying too much.
CONTACTS – Elektrum Customer Service always a touch away.
WHAT WE DID
Within the project, we developed the app's technical specifications, web service documentation and visual design, programmed and tested iOS and Android apps (including testing documentation), integrated with the client's server-side system, published the app on iTunes and Google Play portals, and ensured maintenance after publishing.
Learn more about our mobile app development services