ERGO health insurance app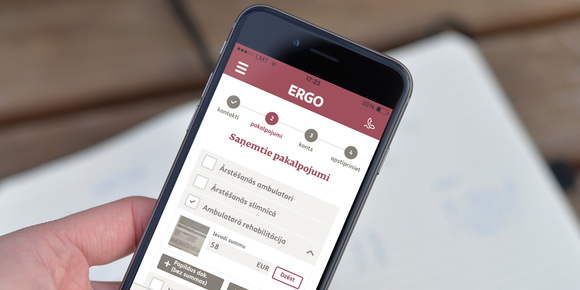 ERGO health insurance's mobile app is a good example of how a mobile solution can considerably facilitate information exchange between customers and companies. It allows applications for the reimbursement of medical expenses to be completed.
This procedure typically includes filling out and signing a physical form and enclosing proof of expenses (receipts, acquittances, referrals, etc.). The ERGO mobile app makes this process a lot easier: you only need to enter your policy number and personal identity number, as well as the sum total, and photograph receipts with your phone's camera. The rest of the information is automatically imported from the ERGO client database. For the convenience of clients, the app allows policy data to be stored, to avoid its re-entry for several applications.
The app is available for iOS, Android and Windows Phone platforms for Latvian and Lithuanian customers in Latvian, Lithuanian, Russian and English.
WHAT WE DID
Within the project, we developed the app's technical specifications, web service documentation and visual design, programmed and tested iOS and Android apps (including testing documentation), integrated with the client's server-side system, published the app on iTunes and Google Play portals, and ensured maintenance after publishing. The project was implemented within three months.
Learn more about our mobile app development services