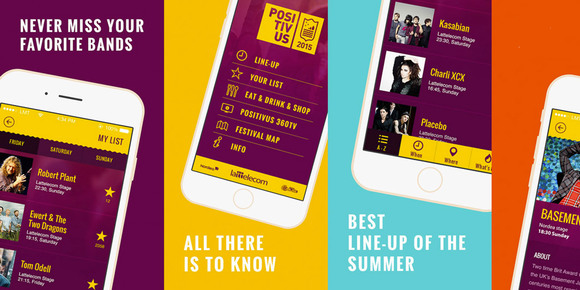 It is no doubt that Positivus, the largest festival in the Baltics, needs its own mobile app. So we created it. We have been working with Positivus since 2011, improving the app every year and offering festival visitors increasingly more new opportunities.
The app includes:
Positivus programme that can be viewed according to different variables
Personalisation – the visitor's individual list of musicians
Top musician as voted by festival visitors
Opportunity to purchase festival tickets
Offline mode – the app can be used without internet connection
Information about festival musicians
Information about catering services at the festival
Festival map and other useful information for visitors
Links with social networks
Content management system that allows the Positivus team to remotely update app content
WHAT WE DID
Within the project, we developed the app's technical specifications, web service documentation and visual design, programmed and tested iOS and Android apps, integrated with a server-side system, published the app on iTunes and Google Play portals, and ensured maintenance after publishing.
Learn more about our mobile app development services